This week, a massive ransomware attack has hit a number of businesses in Europe and around the world, causing major companies to shut down their computer systems. One of these international companies that is being impacted heavily is the A.P. Moller-Maersk Group, one of the largest ocean carriers in the world.
Early this morning, 6/28/2017, Maersk issued a notice confirming that some of their IT and communications infrastructure had been impacted and that they have proactively shut down as a security measure.
Maersk went on to explain:
"All immediate vessel operations will continue as planned, making the majority of planned port calls
Access to most ports is not impacted, however some APM Terminals are affected and gates are closed
Cargo in transit will be offloaded as planned. Import Cargo will be released to credit customers
At the present time we are unfortunately unable to serve new quotes or accept future bookings."
Since their communication earlier this morning Maersk has provided the following update, "we are now able to accept bookings via INTTRA if you have an existing account. Booking confirmation will take a little longer than usual but we are delighted to be able to work with you to carry your cargo." They went on to warn, "We are still working on complete resolution to resume normal operation. We will keep you informed."
Authorities do not presently have information as to how Maersk was infected or the reasons for the overall global attack.
Odyssey is monitoring the situation closely and will be sure to provide updates as it develops. Most up to date information can be found at http://www.maersk.com/en or on twitter: https://twitter.com/Maersk
UPDATE – 6/30/2017: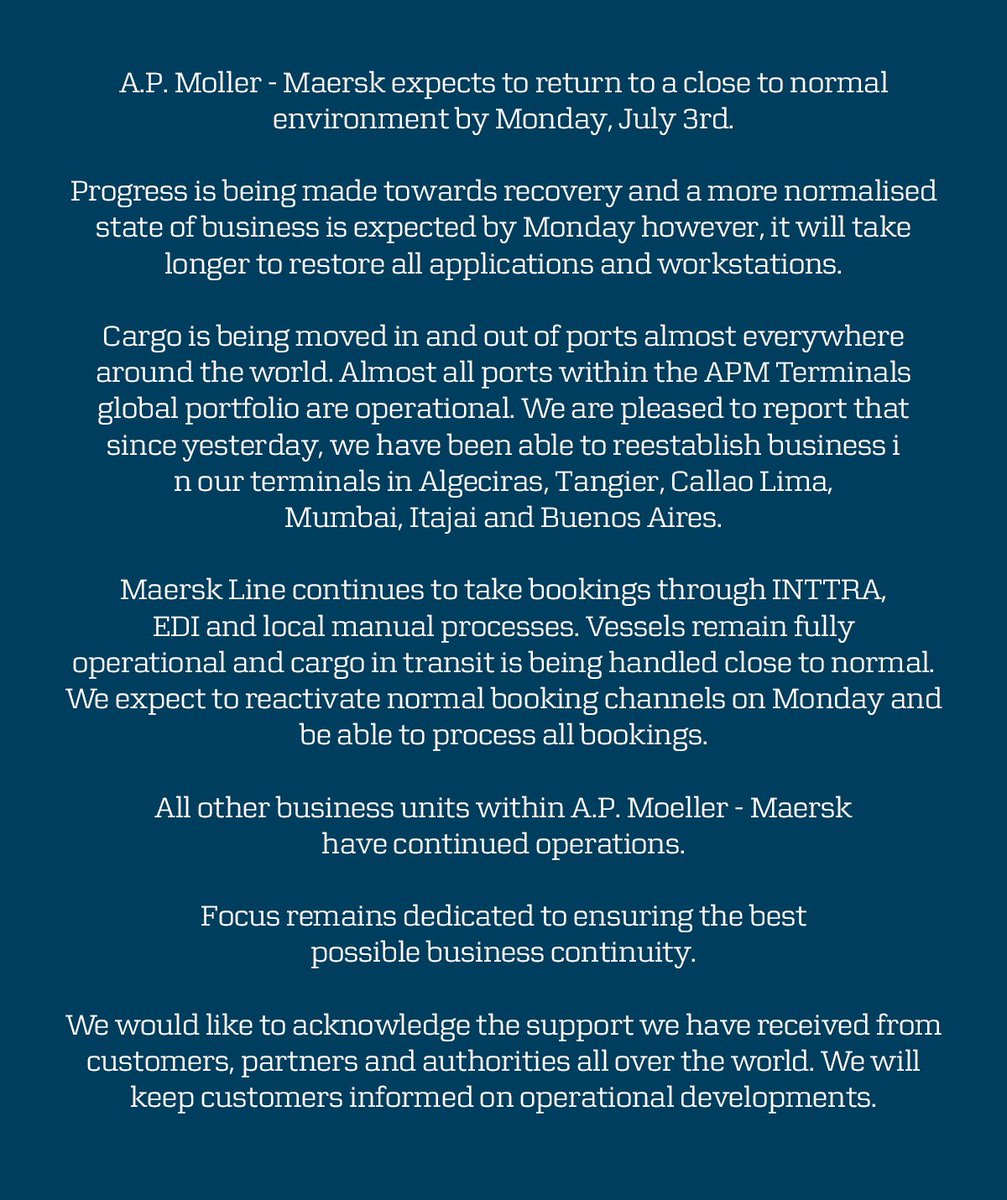 Update- 7/4/2017:
A.P. Moller – Maersk continues the progress towards full recovery from the cyber attack on Tuesday 27 June. Read More.